David Adeleke popularly known as Davido shared his third studio album across streaming platforms in the very early hours of Friday, 13th of October.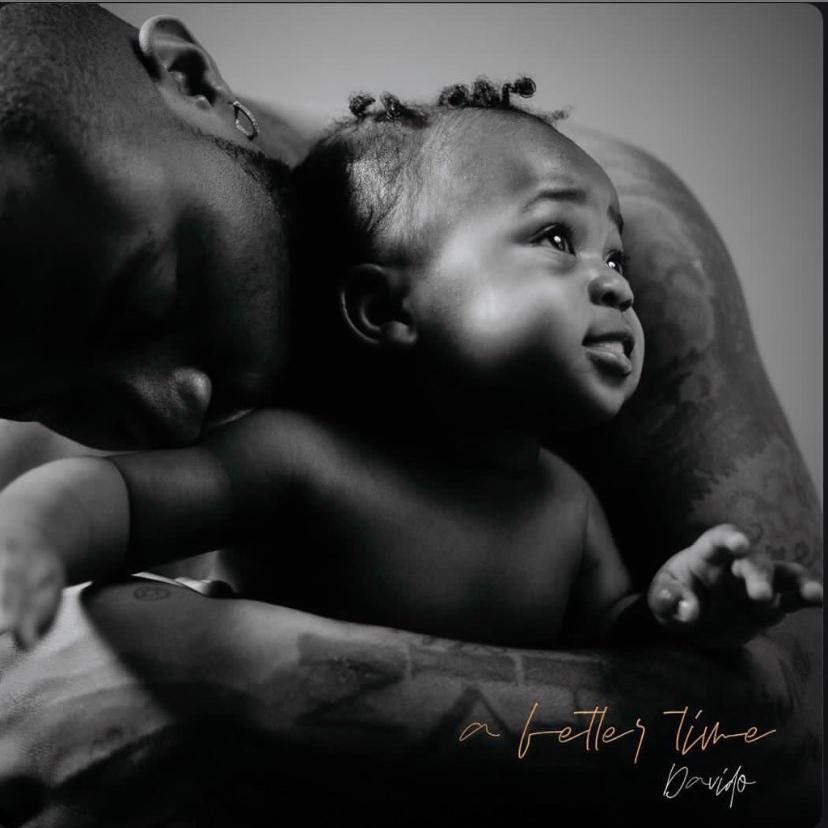 'A Better Time' is Davido's third studio album and fourth project overall, counting his 'Son of Mercy' EP—which he hates, if I may add. Davido is one of he biggest acts out of Africa so it should come as no surprise how heavily anticipated the tape was/is.
I'm Zhajj, let's dive into MY track-by-track review of Davido's 'A Better Time' after a 1-time first listen. No Repeats, No Skips. Shall We?
1.) FEM
Obviously not a first time listen, the production on this song is bliss, yeah yeah David is sending a message alright and he's sending it clear as crystal. Catchy Choruses is Davido's forte and he's not stopping here. Did i mention how amazing the instrumentals on this is amazing? That's shout-out to Napji. A weaker second verse but still maintains the same energy. This is a hit song, a Banger by all standards.
2.) Jowo
Davido enters this song like it's a ballad. Yup, this is laid-back Davido. Jowo has got a sweet chorus and hook, probably the kind of song that should be in the middle or towards the ending of an album. Davido is as calm as as an ocean at night here, no loud noises, a standard love song. Who's the producer? He's trying to sabotage this with too much tags?
3.) Something Fishy
Loving how this started, already sounding like a jam. Giving 1 Milli Vibes, the space after 'WAIT!' is giving me goosebumps, I'm in love with this tune. Something fishy should be a fan favourite. Davido is not shouting on this album as some people might have feared, it's either low or mid tempo so far. This song would slap with a live band as hell. Too much time wasted at the end of the song with just instrumentals for about 30 seconds, should have repeated the chorus again, its amazing.
4.) Holy Ground (feat. Nicki Minaj)
Nicki is here, looked forward to this one. Songs just starting and there are like four tags already, what's happening? This sounds traditional too, another slow paced song, would be fun to see how Nicki blends into this one, quite a simple production. OMG! Nicki Minaj is singingggggggg, damnnn. She's transitioned into rap and then back to singing and then back to rapping again—ORGASMIC, to say the least. Holy ground is yet another lovely tune, the song is almost over and Davido hasn't offered a solid verse yet, disappointing on that front. He scored the feature though, Nicki showed up and showed out.
5.) Heaven
Amapiano is the raving wave and Davido recognizes this. Davido makes his Amapiano debut, I guess. The phrase 'Feel so real' is being repeated about a 100 times and that's not the song's title, why?. Amapiano can never go wrong, I'm loving the production, a little indifferent about OBO's vocals though. Yet another laid back tune, Davido is not loud on A Better Time… Not yet. Personally like this but it's not a Banger tune.
6.) Very Special
This has got the traditional vibe too, this album sounding like massive live band material, it will be rinsed repeatedly at Naija ceremonies. Davido is thankful for his very special Woman in a mid-tempo love tune. Most of the production so far are quite simple, don't want to use the term 'basic'. Speroach exec produced this too I heard. Need the next song.
7.) The Best (feat. Mayorkun)
Mayorkun loves tags, like six already and the songs just starting, two from the producer too. Fresh VDM and Semzi is on this and I'm already getting Vibes that it's the most exquisite production on the tape already. Damn Mayorkun is amazing, we need that album from him. Oh My God Mayorkun lmaoooooo, this intro is fireeeeeee. This is the best song so far. Davido mixes like salt and water. This is amazing production. Mayorkun is killing this song while paying his respects to Davido and dropping his amazing tags, Eargasmic bliss. Best song so far.
8.) Shopping Spree (feat. Young Thug & Chris Brown)
Sounds super laid back—the slowest song so far—intimate instrumentals. Davido is super calm on this, would love to hear Chris on this, he bosses these type of instrumentals. Similar to the song with Summerwalker, both RnB songs. Young Thug comes first, his vocals surprisingly blends perfectly and he's coming through, he's owning the song dayummmnnn. Davido handles the chorus and I think I like it, Chris Brown time. CB has formed an amazing chemistry with Davido, he didn't miss on 'Blow My Mind', he's not missing on this too, he's yet to fall Davido's hand. A smooth song with enough vibes.
9.) Sunlight
I don't agree with how this song started. Okay He adjusts, growing into it slowly. Yes! quality productions are beginning to come in, loving the frequent gong sound, Davido is super calm so far on this album, conveys bold growth. No solid verse yet though but I'm liking the vibes. Song's over? 2 minutes 12 seconds, maybe meant as an interlude. It was cool while it lasted though.
10.) Tanana (feat. Tiwa Savage)
This collab was needed for the culture. Okay this would get a lot of stick for its lyrical content, but at this point, I doubt if Davido would mind. It's a mid-tempo pop groove song, sounds like something people would grow into. TIWA SAVAGE IS HERE, oh my God, her vocals are from heaven, she delivers the best part of the song already, she's made for this beat, would have been amazing as a Tiwa Savage song but that's a whole different convo. This is a cool song, mixed feelings about it on first listen. Oh Kiddominant produced this, decent.
11.) Mebe (feat. Mugeez)
The lyrical inadequacy is maintained on here too I guess, yes. A mid-tempo song just for Vibes. Decent production, Davido not doing his best on it so far. Mugeez here for his verse, I've always loved the texture of his vocals and it's blending well so far but I don't think he's saving this song. On first listen, maybe one of the not-all-that songs so far. Didn't live up and could have been better, this is my first listen reaction anyways, could love it after repeated listens.
12.) La La (feat. CKay)
Amapiano again, love this. It starts with Davido applauding the production ('that bass', he says), I'm nodding my head as I listen to this, myself and Davido feeling the production. Davido gets a full hang of this Amapiano, hmm the bridge sounds like something Rema wrote—it's CKay though and it is catchy AF. CKay is doing great with his synth vocals too. The primary beat is stopped and restarted too many times and I'm not feeling that vibe. I feel the Song is too short and it's 3 mins, that's how much I enjoyed this.
13.) So Crazy (feat. Lil Baby)
Yeah the pre-released single with Lil Baby, this song got a lot of stick and mixed reviews but I don't think it's that bad, I think it's the tempo that threw a lot of people off and a lot of the songs on ABT isn't fast tempo too so bias could cloud a couple of ratings. It's production is simple too and just allows room for the vocals to shine, Lil Baby's verse followed the theme of the song and that's good. Not a first listen too.
14.) Birthday Cake (feat. Nas & Hit-Boy)
Is it a birthday song? No, has got piano keys on the instrumentals. It's a Hit-Boy produced track and it's obvious, not a lot of Afrobeats elements. Davido was probably the most excited about this Nas verse and I can understand why, he's a legend. But I still don't get the point of this track after first listen, didn't enjoy it.
15.) I Got a Friend (feat. Mayorkun & Sho Madjozi)
Amapiano yet again, for the third track on this album. Different tags flying about; Sho, Mayorkun and Davidos'. I think the quality peaked at the start of the album and has been on a downward slope since track 12/13 or so. This track has got me confused, I love the production because it's Amapiano and I feel Amapiano can do no wrong but the vocals are somewhat scattered. Sho Madjozi has got powerful vocals but her verse is passable. Fresh is on the production BTW, he doesn't miss. A Club Banger potential though.
16.) Fade (feat. Bella Shmurda)
The one with Bella Shmurda, the world looked forward to this one. It's a thankful kind of song, obvious from the onset. This sounds cool, like a song that should get visuals. Bella Shmurda is killing it so far, the boy don't miss. Features really came through for Davido on this tape. A lot of mid-tempo tunes on this too, this is one of them. Davido and Bella are mixing beautifully, this song will stay a while.
17.) On My Way (feat. Sauti Sol)
Davido with Sauti Sol on a Lord Sky-produced song, what could go wrong? Excited to hear this. This is super laid back too. Davido is amazing so far, probably at his best so far in the album. He owned the first 2 minutes, like he didn't want Sauti Sol to sing. Sauti Sol have not missed this year, I don't expect them to start now, they just know how to blend into whatever type of beat, they make it their own and they murder it. This is an anthem, could bring a man to tears with how touching it is. The perfect way to close an album. Davido said 'the Grace' with this one.
Across the years, Its always been about Davido having to prove something to the world. Having to work harder because it always feels like Davido vs the world, which of course is terribly unfair to say the least, but davido has/will never back down from a challenge. HE is a workaholic who derives joy from proving his doubters wrong whilst eating hate for dinner like Eba. The growth from the 'A Good Time' era is undoubtedly present and clear. As an artist, this is the only thing you owe to your fans; Always striving to be better and this is exactly what Davido has done. A lot of the production are basic and i think this was done on purpose to allow the vocals of David himself and his guest features to shine—and shine, they did.
It is an amazing album for me on first listen, an 8/10 or thereabout. My Top picks for the best tracks are 'FEM', 'The Best', 'Jowo, and 'Something Fishy'.
Switching to first time reviews for the first time because i got to realize waiting for a full fledged review comes with the consequence of having one's opinion tilted by a variety of factors, so its 1-listen reviews for now, I feel it brings out the purest review and its fun.
I'm sure you have different views concerning 'A Better Time', drop them in the comments and do not forget to subscribe.